Setting a Spring Table with Loeffler Randall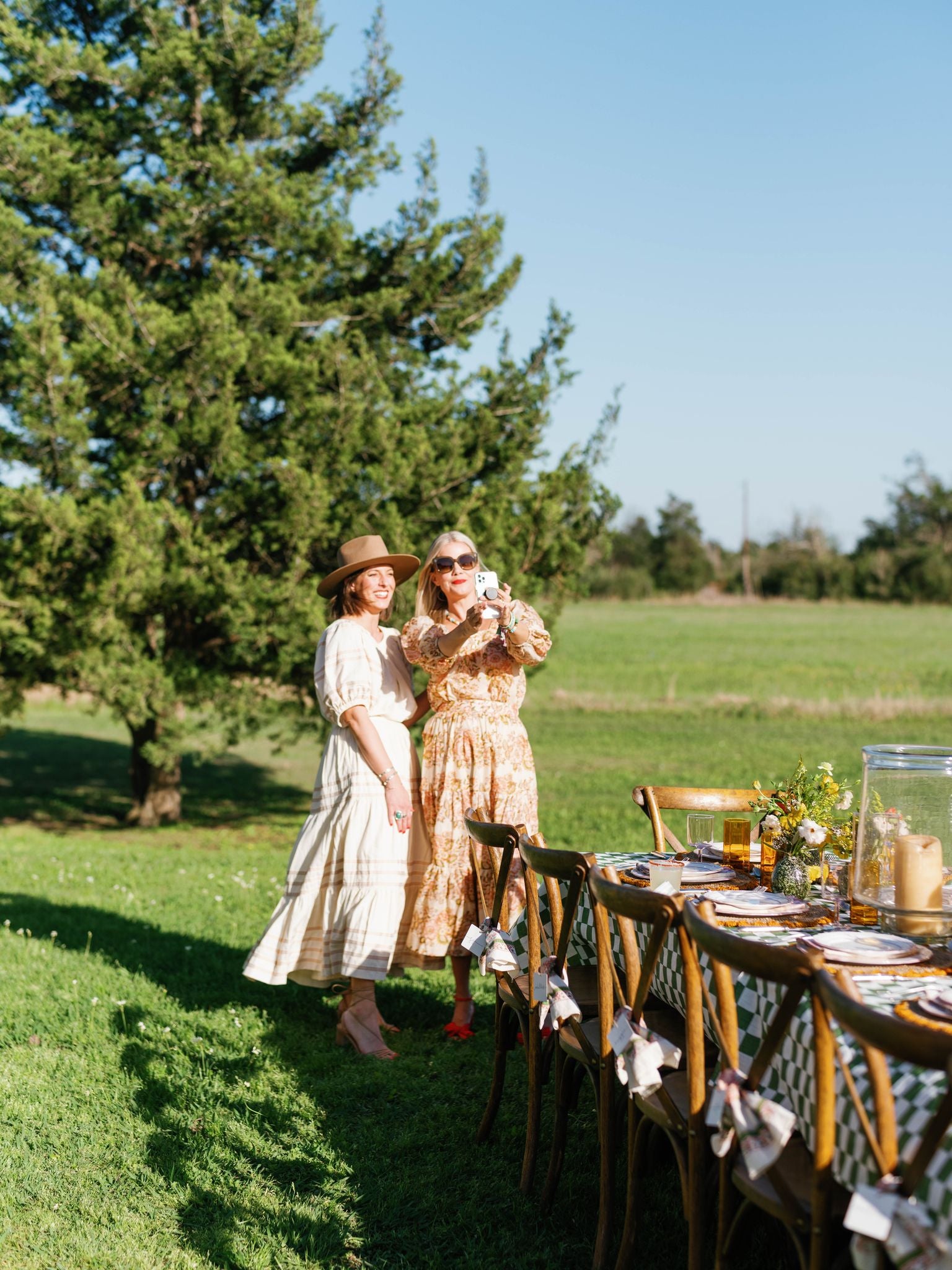 It's hard to believe that March marked our second Spring Show in our now not-so-newish Round Top digs. At this point, the shotgun style space feels lived-in in the best way and brimming with possibility. This spring, the walls of the shop bore witness to one of those career pinch-me moments as we hosted New York-based brand Loeffler Randall for a two-day Porch Pop-Up.
I first met Jessie Randall and her husband Brian at an industry trade show in 2004. I was fresh out of college and finding my way as a newly minted fashion PR and wholesale rep, and Jessie and Brian were in the early scheming stages for their footwear and accessories company. When Loeffler Randall dropped their first collection a year later, I already counted myself as one of their biggest fans. I have followed Jessie's remarkable trajectory ever since. I love her designs, of course—the devoted Loeffler Randall section of my closet can speak to that! But it's an admiration that goes beyond the brand itself. My respect for Jessie as a person and business owner runs deep.   
Jessie came into my shop during her first-ever visit to Round Top in January, and we quickly fell into easy conversation. We covered a lot of ground, dishing about the CB wares she'd fallen in love with, trading Round Top lore, and gushing over my favorite 15-year-old Loeffler Randall snakeskin boots I was wearing that very day. By the following week, we were scheming about a collaboration.
Our Spring Show Porch Pop-Up was a celebration of Loeffler Randall's recently released clothing capsule and seasonal accessories, and what a thrill it was to shop the racks of stunning pieces in the Texas sunshine. I bought the Sonnie Woven Slides and have worn them almost daily since. Sarah chose the Maisie Gingham Sport Sandal. We both purchased Bodie Oversized Totes to cart all our goods to and from the shop each day; I had the matching bags monogrammed as any good Southerner would do.
On her final night in Round Top, Jessie and I gathered our teams with creatives from near and far for a celebratory dinner at Marcia Smart's breathtaking Kitchenette Farm. Our vision for the evening was to create a magical experience that couldn't be replicated outside of Round Top, and Kitchenette Farm delivered with gusto. We toasted friendships old and new against the unspoiled terrain of rolling hills and under a sky dotted with stars. 
For the table setting, I leaned on my favorite checked linen tablecloth as the linchpin for the design. While I sourced most of the pieces from my shop, it was important to me that the tablescape complement both brands' aesthetics. We took a bright floral from Loeffler Randall's spring collection and wove the print and its berry hues throughout the evening, including the custom invitations and menu cards created by Jessie's team.
Our lovely mouth-blown wine glasses (perfectly sized for all varietals and to fit in your dishwasher!) paired wonderfully with our faceted honey-hued water glasses and a few rosy pitchers for serving. Two massive hurricanes (pulled at the last minute from Marcia's back porch!) anchored the tablecloth from the strong winds that mercifully subsided the moment we sat down to eat. I grouped petite green terracotta vases en masse down the length of the table, serendipitously counterbalancing the scale of the hurricanes. The mottled texture added an interesting visual layer, and one that was appropriately effortless and casual. Just a note, I love the price point of these vases that make quite the aesthetic impact.
My incredibly talented friend, Anne Letzerich of Muddy's Garden, did the flowers and always makes everything look so naturally elevated. We sent each guest home with their own mini arrangement that Anne assembled into our vintage lassi cups. Guests also left with a Loeffler Randall bandana custom designed by Jessie specifically for the Pop-Up. Because of the wind, I tied the bandanas to the back of the chairs with the name cards pinned to them, dressing up our rentals in a charming way. 
The table blended seamlessly with the ethereal ruggedness of our surroundings and accompanied Marcia's fresh, innovative menu quite beautifully. Highlights of the meal were spicy margaritas (served in our darling Italian blown cactus glasses), flatbread pizza with pesto and roasted tomato, the most flavorful grilled lamb lollipops with chermoula, and a simply prepared wild caught salmon accompanying lots of seasonal veg.
For the evening festivities, I wore LR's grosgrain ribbon trimmed Delano Cream Smocked Peasant Blouse and coordinating Romily Tiered Skirt. I paired the set with the Prisca Dune Strappy Wrap Heel, the most perfect mid-height block heel with just enough lift to elevate my outfit for the event but low enough to be worn all day/night. These heels are easily the most flattering shoes in my closet. The supple calf leather crosses the foot in a sexy, understated way. Though I'm typically a champion for a statement shoe, I think every woman needs these in her closet. I added a custom hat by my friend Clint with Round Top Hat Co. and layered a few turquoise rings with my everyday silver, gold, and diamond cuffs — all handcrafted by the talented Richard Schmidt, who we stock in our Houston shop.
Sarah dressed up her own oatmeal colored jeans with a tonal Puff-Sleeved Sweater, Loeffler Randall's quintessential pleated Penny Heels, and the Willa Natural Mini Clutch. Sarah's on the party circuit in advance of her upcoming nuptials, and the heels and bag will be staples as she puts together outfits for the season ahead.
Jessie and I gushed over one another's choice of bags for the night — I arrived with their Mallory Woven Crossbody hanging off my shoulder (I'm a sucker for green, always!), just as Jessie walked in carrying our Hold Your Horses jute tote (more arriving this month — we're taking pre-orders now!).
A collaborative labor of love, the evening under the stars was a striking expression of the Round Top spirit. Defined by entrepreneurial grit and authentic, unapologetic creativity, this spirit is also woven into the fabric of both brands' stories. I'm humbled and grateful that Jessie and her team came to our neck of the woods for a few days, and that so many of our loyal customers and friends joined us to delight in this place we love.