Fieldnotes: CB Chats with Susana Vega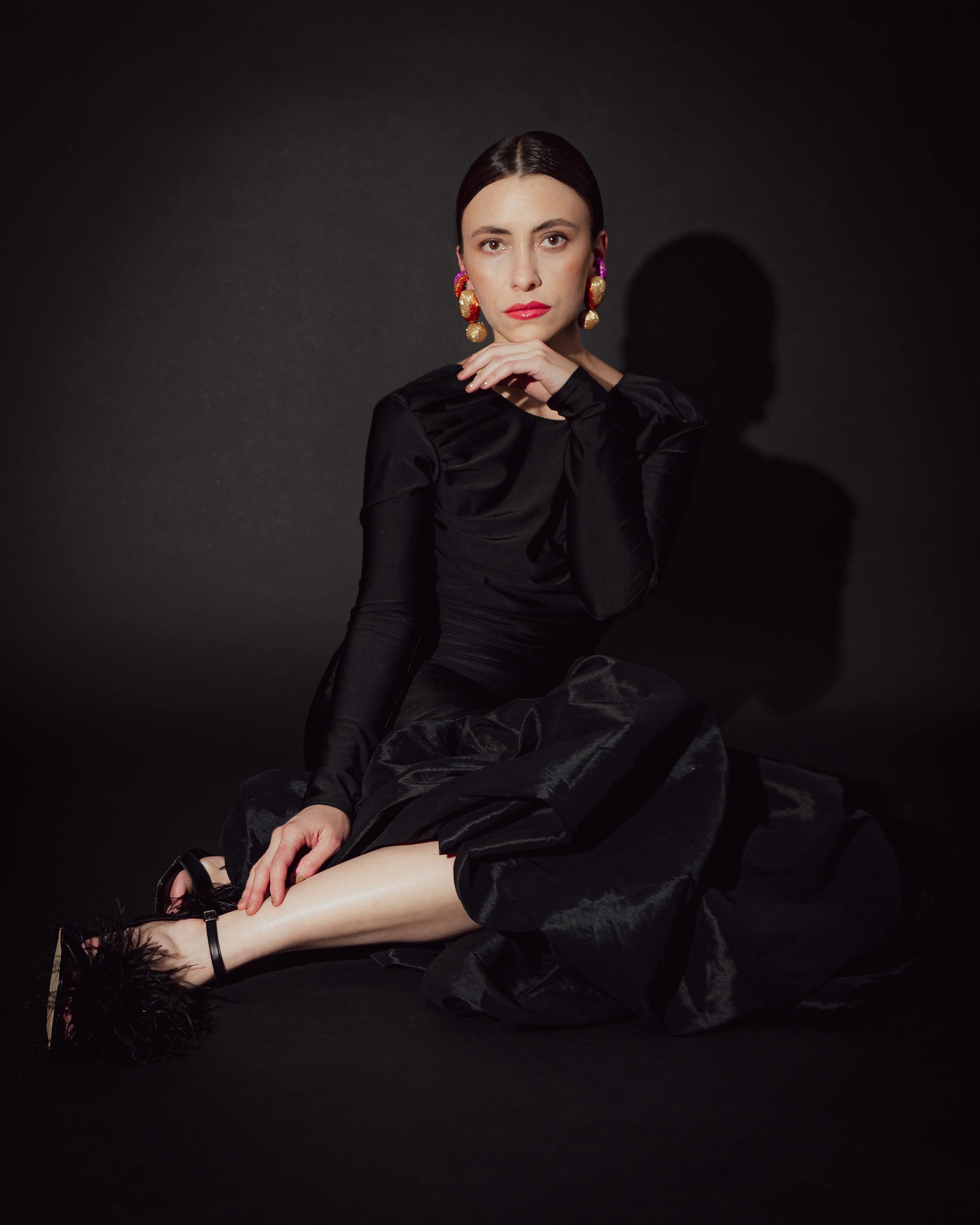 Since launching her namesake brand in 2008, Venezuelan jewelry designer Susana Vega has garnered a devoted following for her impressive mix of elevated basics and statement pieces. After an exciting year of being named Latin American Fashion Summit's Accessories Designer of the Year and having her earrings worn by Gloria Estefan on the cover of Vogue, Susana is showing no signs of slowing down — and we're here for it!
Born into a legacy of jewels and a family steeped in goldsmithing, Susana has expanded on the techniques and craftsmanship honed by familial generations to bring her uniquely inspired vision to fruition. Drawing on cues from nature and art, each collection builds seamlessly on previous iterations in a way that expresses a deep, intuitive knowing of her own evolution of thought and style. The intricate, hand-crafted bead lines are evocative of the motion, movement and three-dimensionality of the ocean and sand which served as inspiration. Highly versatile and brimming with personality, each piece is truly a work of art.
I love the rich history behind her brand and the versatility of her pieces. As a longtime admirer and acquirer, I'm thrilled to introduce a curated collection of Susana Vega Jewelry to the shop. Depending on your personal style, they can be worn as building blocks to an overall statement you're creating, or worn as the centerpiece itself. I'm rarely without my favorite metallic beaded earcuff layered alongside everyday diamond studs. When I want something more dramatic, I opt for a pearl-edged cuff stacked next to a coordinating Solito Hoop for a dynamic, mirrored impact. Without a doubt, the best value is the Agua. Its dangling gold bauble can detach to create options in how you mix and match with abandon. Susana's Instagram is a must-follow and you will quickly find yourself captivated by her inimitable charm as you learn how to create endless combinations with a few edited pieces.
xxCB
Can you talk a bit about the experience of moving from your home country of Venezuela to the US in 2018 and re-launching the brand?
SV: It was a challenging journey, filled with humility. Leaving everything behind, both literally and metaphorically, forces you to become resourceful. I'm naturally optimistic and positive, so I saw this moment as an opportunity to take a step back, study, design, and equip myself with everything needed to relaunch my brand in the USA. It took two years and I'm incredibly grateful for this process because it transformed me into the entrepreneur I am today.
One of the most exciting aspects was having access to all the raw materials I could imagine and digital resources to create my own website. Additionally, feeling warmth, affection, and appreciation of a well hand-crafted product from people toward my brand, which for many was unknown.
The greatest challenge has been staying true to my brand, to the universe I've created for it, and working tirelessly to carve out a space within this highly competitive industry.
I love that you "create pieces that collect memories." What are some of the most meaningful memories you've collected and how do you like to mark those moments?
SV: I've been collecting memories in jewelry all my life; each piece takes me back to specific and special moments.
One childhood memory I revisit often is modeling my father's jewelry for his clients. It was how I learned jewelry should be created to bring joy. I vividly remember the smiling faces of those who received his handmade jewelry. I knew that these people would cherish these pieces, either for themselves or as a special gift for someone else. It's a beautiful cycle; now, each of these individuals would be creating memories with their jewelry.
How and where do you draw inspiration when creating new collections?
SV: I find inspiration in art, nature, and womanhood—these three pillars dance in harmony every time I embark on a new collection.
Within the elegant silhouettes of our jewelry, we honor the legacy of Latinx heritage, weaving stories of empowerment and triumph. Our jewelry becomes wearable works of art, celebrating the universal essence of women, transcending boundaries, and embracing the resilient spirit that unites us all.
Is there a storied narrative to your collections? A conscious, articulated self-expression in the evolution of designs?
SV: I always aim to honor my Latin roots and my family's heritage as jewelers, a legacy my two brothers and I proudly continue. At the core of everything I create, my most important mission is to enhance the beauty of women by helping them express their personalities and style through jewelry.
Over the years, my collections have been a reflection of the moment in my life. Each one is a dance between my roots and the phase of life I find myself in. My most recent collection, OCEANUS, is powerful and deep, much like the ocean, and it reflects how I feel at this point in my life. Our brand and I as a designer are growing stronger with each passing day, but the mission of our brand and my life goals take on deeper meaning.
From one color lover to another, what is your favorite color combo right now? And any favorite earring combinations from your collection?
SV: My new favorite color combinations are: Pale/Caribbean blues, lemon and silver, as well as grapefruit and bronze.
I'm currently pairing any medium-sized earring like Mini Maurita with three Ora Small Ear Cuffs stacked on each ear. It creates a stylish and unique look that I'm really loving at the moment.
What's a meaningful piece of wisdom shared with you that has stayed with you?
SV: My favorite: Everything you want in life, you can achieve, but no one is going to come and do it for you.
Another piece of advice I've heard and internalized, even though I couldn't quite fathom how to make it happen, especially when I felt alone on this journey (and this path can sometimes feel quite solitary) is this: To grow, you need a team. And believe me, I couldn't do it alone. Thankfully, little by little, I've surrounded myself with the best and together we've accomplished wonderful things.
These pieces of advice may seem contradictory, but they're not. They complement each other beautifully.
Coming from a long line of jewelers, have you already begun passing on the family legacy and knowledge to your precious daughter, Montse?
SV: Of course, and she loves it! The best way I've found to inspire her is by letting her see me, allowing her into our workshop, and encouraging her to share ideas. She shows me her sketches for the collection I'm working on, ideas for campaign concepts, color combinations, and even the craftsmanship itself. She knows how to string beads and is incredibly talented at our glass bead jewelry-making technique.
I adore your personal sense of style and would love to know your favorite places to shop — both locally and online.
SV: Thank you. I rarely visit physical stores as I spend most of my time at home. However, in Houston, I adore Christy Lynn's boutique. I also enjoy exploring thrift stores, such as Goodwill, where I've stumbled upon some true treasures. When it comes to online shopping, I frequently turn to Zara and Lyst, among others. The most cherished items in my wardrobe are pieces passed down from my father, mother, and maternal grandmother. I can't help but mention my deep appreciation for having pieces from Latinx designers I admire, such as Efrain Mogollon and Andrea Gomez.
Like us, you now call Houston home. What's your definition of the ultimate day spent in Houston?
SV: I love food, so my perfect day would involve visiting the Museum of Modern Art, enjoying a delicious lunch – Houston is brimming with cuisine from all over the world – and then spending the afternoon in a park like Hermann or Memorial. Or perhaps indulging in some quality shopping time at stores like yours for a perfect weekend day in Houston.
How would you describe your aesthetic? Any interior projects you're working on at home?
SV: Defining a specific aesthetic style is quite challenging for me. I have a deep appreciation for beautiful objects with timeless elegance and a lot of personality. I love vibrant colors, sophisticated spaces, and find equal allure in both minimalism and maximalism. One area of my home might burst with vibrant colors, while another exudes a serene all-white Zen. It's a delightful challenge to balance these varied tastes.
Recent faves:
Playing... I've been listening to a lot of Rawayana, a musical group of young Venezuelans.
Reading... I would love to find more time to relax and read, but it's essential for me to keep expanding my knowledge. So, while I'm driving, traveling or working in the early hours, I often listen to podcasts or online platforms as MasterClass for inspiration and learning. Some of my favorite podcasts include Cracks, The Mindset Mentor, and The Latin American Fashion Summit.
Adding to wishlist... a mirror that's a work of art and a new 3D printer for our workshop.
Cooking... Arepas
Making... The SS24 collection
Watching... Live to 100: Secrets of the Blue Zones
Loving... The moments of relaxation and enjoyment with my husband and daughter.