Fieldnotes: CB Chats with Jessie Randall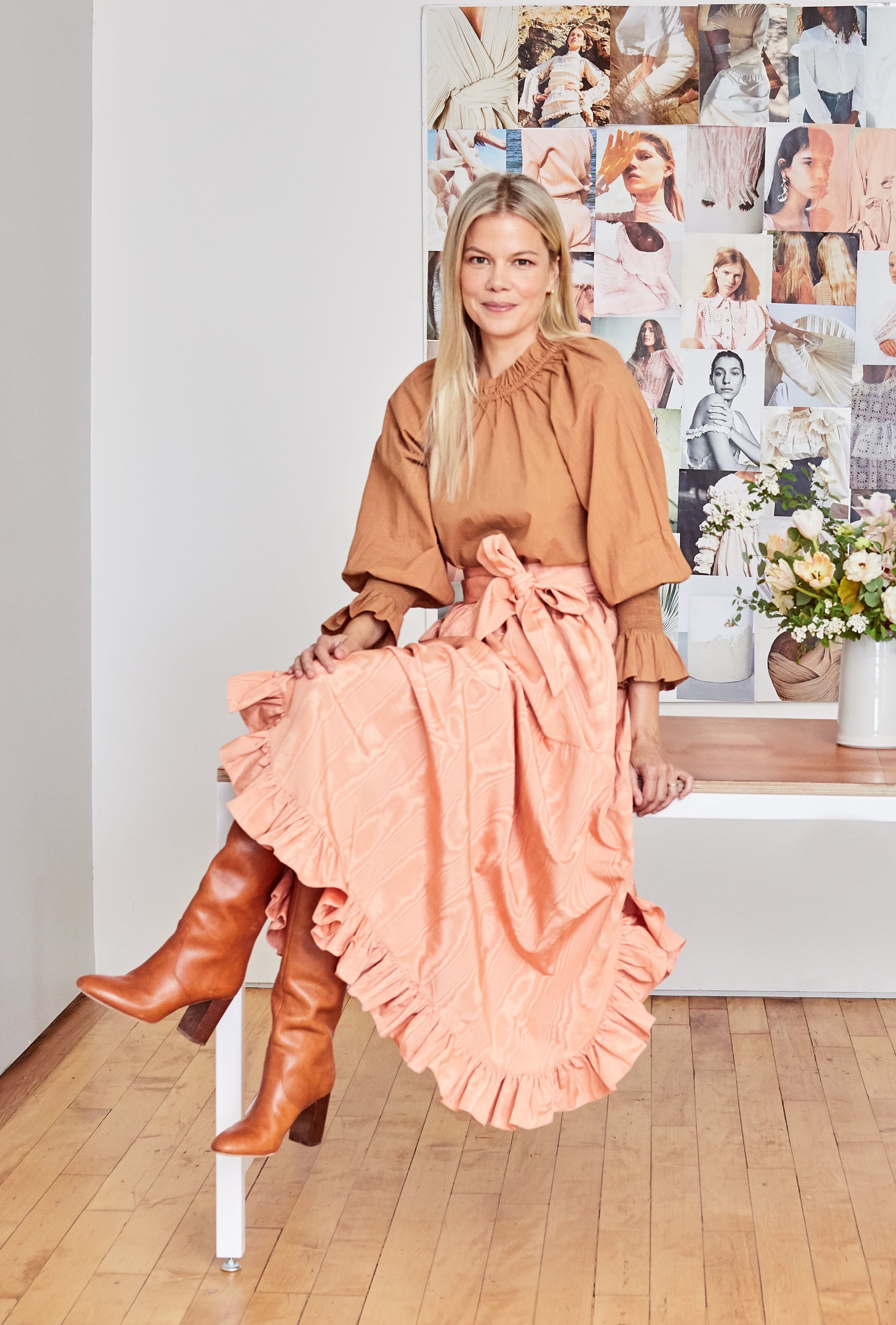 I am a longtime fan of New York-based luxe meets laid-back footwear and accessories brand
Loeffler Randall
. My most loved, most broken-in shoes are fifteen year old Loeffler
(psst: it's pronounced "Lef-ler" – no "o" sound) 
Randall brown snakeskin boots — a pair I adore so much that I sourced a back-up pair on a resale site many years later!
Since 2004 Jessie Randall, who co-founded the company with husband and business partner Brian, has
 expanded the collection from shoes to handbags to clothing, and 
built Loeffler Randall into an internationally distributed brand sold in over 300 retailers worldwide.
Jessie made a recent jaunt to Round Top (which she
detailed on her Journal
) and was so taken with our favorite Texas town that she started scheming another visit — this time with covetable LR goods in tow!

We're thrilled to share that we'll be hosting the cult favorite brand for a Round Top Pop-Up on March 29 – 30 during the 2022 Spring Show. In advance of the event, we teamed up with Jessie for the latest installment of Fieldnotes, our Journal series devoted to conversations with influential tastemakers. I'm honored and delighted to open our doors to Jessie and the Loeffler Randall team for what is sure to be nothing short of a memorable, inspiring time.

xxCB
We're thrilled our worlds have collided and that you're heading south again in just a few weeks! Tell us what initially drew you to Round Top.
JR: I kept hearing from people I admire that Round Top was an amazing place to visit ― interior designers, boutique owners, designers, etc. I came for the inspo, the vintage, and to experience this special part of Texas!
During your visit to the Winter Show, what were your first impressions? Were there any unexpected surprises about Round Top? As both a design-minded creative and a customer during your time in Texas, what did you love most about your time here?
JR: It was totally different than I expected! I didn't realize there are all different locations along the road where vendors have their set ups. Another big surprise was bumping into people I knew, as well as seeing a bunch of LR! It was wonderful to know that people all the way in Texas know and love our brand. It made me so happy.
One of my most favorite moments was approaching you, Courtney, because I noticed you were wearing LR boots and finding out you are the person behind the beautiful store we had just visited.
We've caught glimpses of your gorgeously appointed Prince Street store. Talk to us a bit about the process of designing the Nolita space and your approach to interiors in general.
JR: Thank you! Our store just turned one! It's been such a fun project and really a dream come true for me to be able to have a physical representation of the brand in 360 degrees. My team and I started the project by pulling inspiration of things we loved ― colors, textures, details. We worked with my friend Poonam Khanna who designed the space (and had previously designed our office). I wanted to be sure we conveyed the warmth of the brand, to create a space to relax and spend time trying on shoes. 
We're longtime fangirls of Loeffler Randall and are dying to know your favorite LR design of all time?
JR: Such a good question! Well, our very first pump was named for my grandmother Harriet so that one will always be special to me. Matilde was our first really big hit and I loved that boot. Now I would say my favorite is Natalia with our signature bow and a platform because it's just so fun. Whenever I wear Natalia I instantly feel excited and happy. 
I spotted a hint of early inspiration on Instagram for a pending kitchen remodel. Is there a specific element driving the entire look/feel or any non-negotiables you must include in your new space?
JR: We have a little house out by the beach. When we bought it over a decade ago, it was a new build. It was a nice blank canvas, but it lacked personality. So I'm trying to slowly transform it into a space with personal touches. My husband is not keen on my reno plans (hates the chaos and doesn't want to spend the money) so I tend to do mini projects in the house
― 
often with my own two hands. First I designed a simple plaster fireplace. The next project was a built in seating area with pretty wallpaper (I built the bench and hung the wallpaper myself). And this summer I'm determined to do something about our kitchen. I dream of replacing the countertops and repainting the cabinets, making a new shelving space to showcase my dishes (I collect ceramics). I have a whole mood board of the look and feel I want
― 
sort of a modern country kitchen.
As we head into Spring and Summer, what's inspiring you when it comes to fashion? 
JR: In the midst of such an unsettling time, I'm looking to fashion for little moments of escape and joy. I love that we just came out with our
pleats in red
. I'm wanting a bit of fun and color right now.
We'd love for you to share some recent picks…
Listening to…
True Crime Garage
. I've always been totally obsessed with all things true crime.
Watching…
Euphoria
. It's terrifying to watch especially being a parent of teens but I think it has a lot to say. And I think Zendaya is the coolest. I'm obsessed with her styling on the show.

Cooking…the last thing I made was butter heart cookies for Valentine's. I use the same recipe my grandmother did — from the back of the Land O'Lakes package.

Making…I've gotten back into knitting again recently. I just knit my son a snowflake hat so he can match his Animal Crossing avatar.

Wearing…our new LR clothing capsule. I'm so excited!
Playing…
Wordle
. I've joined the rest of the world playing this game each day. I play at the same time as my older son when we take the subway into the city together in the morning. We see how quickly we can both get the answer.