New Orleans Travel Guide: Let the Good Times Roll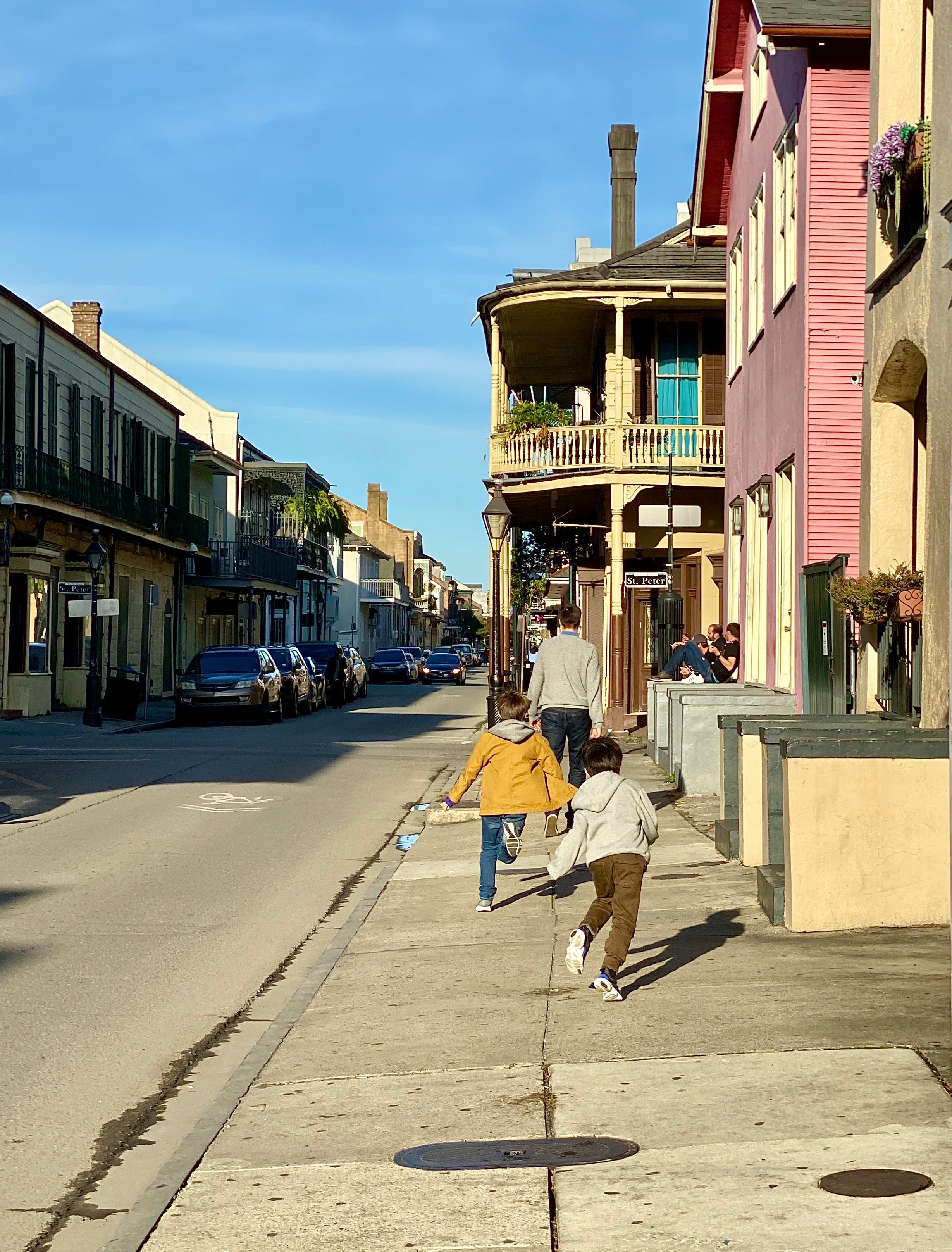 Krewes, King Cake, and Mardi Gras revelry are a few things everyone should experience at least once in their lifetime. Having recently returned from a week in New Orleans where I spent my days dancing in the streets to live music and evenings peeking inside candy-colored shotguns and stately Greek Revival mansions — not to mention eating my weight in shrimp po-boys — I can attest to the fact that it's not hard to let the good times roll in the Big Easy!
My love for New Orleans goes way back. My father was a traveling salesman and weekends were often spent roaming nearby towns; we were especially thrilled when we made a stop in the bustling Crescent City. Now that I have kids of my own, it has been special to share my fondness for this great city and see their own affection grow. There's truly no other place like it.
Whether you're heading to NOLA with your family, significant other, or for a girls' weekend, it's the perfect city to indulge and have a little too much fun. I'm excited to share my personal favorites that I keep coming back to year after year. 
Laissez les bons temps rouler!
xxCB
Play Tourist
Ride a vintage streetcar and book a mule-drawn carriage; it's OK to 'be a tourist.' There's no better way to soak up the 300+ year old history and appreciate the landscape and architecture.
If you decide on a carriage ride, I recommend a private booking to cater to your specific interests. There's none better than Lucy Madden with Royal Carriages (504-957-9481‬). She's rolled us through the Marigny, Garden District, and, of course, the storied French Quarter, and each time I learn new tales and tidbits that I've never known before. 
Pro Tip: Grab a Stanley Brandy Milk Punch in a "go cup" (yes, it's really allowed!) as you catch your carriage just outside Jackson Square. Mid-ride make a pit stop at Lafitte's Blacksmith Shop Bar for a hurricane — not that cough-syrup concoction you're thinking of, but rather a real passion fruit tipple that's perfectly refreshing as you carry on through the Quarter. The 1770s building is the oldest in the city (and the oldest bar in the country!) as it spared fires that destroyed much of the French Quarter.
Ready for lunch? A muffuletta from Central Grocery (consider yourself warned: the "whole" is colossal!), a beer, and a park bench inside Jackson Square are a winning trifecta. Be sure to check out the bevy of local artists surrounding the Square. I always find a piece or two to tuck into my suitcase for home.
Pro Tip: If you see throngs of people waving kerchiefs and umbrellas and hear a brass band letting it rip, you've found a Second Line! Don't let the fun pass you by, slip right in and join the parade.
The National WW2 Museum is listed as Trip Advisor's #1 Thing to Do in New Orleans and this doesn't surprise me the least! It was in this city that industrialist Andrew Jackson Higgins built more than 20,000 Higgins boats — the flat-bottomed vessels that ferried U.S. troops ashore in every major assault of World War II. After taking in this impressive and moving museum, head for dinner just down the street at Luke. Their crispy Brussels sprouts and shrimp and grits are worthy of a postcard home.
Girlfriend Getaway 
Cull your creative juices and book a private headdress making party with my friend and artist Ellen Macomber, who is as every bit as adored as her imaginative pieces! Before leaving, ask to shop her exclusive caftan collection fashioned from vintage quilts and cut velvet. And should you find yourself dining at Justine at some point during the trip (and you should), spot the impressive wall mural in the back room that's fashioned from fabric … all Ellen's handiwork!
After leaving her studio, stroll the length of Magazine Street where local shops reign supreme. Lekha, Pilot and Powell, Malachite Home, and Sunday Shop are a few standouts.
Tiny Tikes in Tow
New Orleans is an amazing city to experience with kids! Mardi Gras World is a must, and something my boys still recall years later. Learn about the history of this great tradition and watch as artists craft sky-high floats that will eventually roll their way into a parade.
We book a FrenchQuartour Kids tour every trip! My boys are partial to the Spooky Ghost Hunt, but I can't wait to take them on Creole Kids. Other musts: Insectarium, Audubon Zoo, and a stop at Café du Monde and Hansen's Sno-Bliz, of course.
Recoup
New Orleans is a hustle and bustle, late-night town, so it's important to have a haven to recover and rally the next day. 
I absolutely love Hotel Peter and Paul. I'm also a fan of the historic Pontchartrain Hotel because of its fabulous interiors and restaurants -- the Hot Tin-Rooftop Bar is a must for the views alone! Maison de la Luz is next on my hotel wish list.
We always book a VRBO in the Garden District when we visit as a family. It allows our crew a place to feel at home and makes tending to the kiddos a little easier overall.
Pro Tip: Because we drive, my boys bring their bikes and scooters to cruise up and down the neighborhood streets in between festivities.
Eat Up!
What would a post on New Orleans be without mention of my favorite restaurants? Irene's, Clancy's, Peche, Pascal's Manale, Compère Lapin, N7, and Saba are the first that come to mind. But trust me when I say if you're around on a Monday night, fried chicken and champagne at The Roosevelt will change your life. And if you're not around on a Monday, well, I suggest rebooking your flight home.