Fieldnotes: CB Chats with Michelle Adams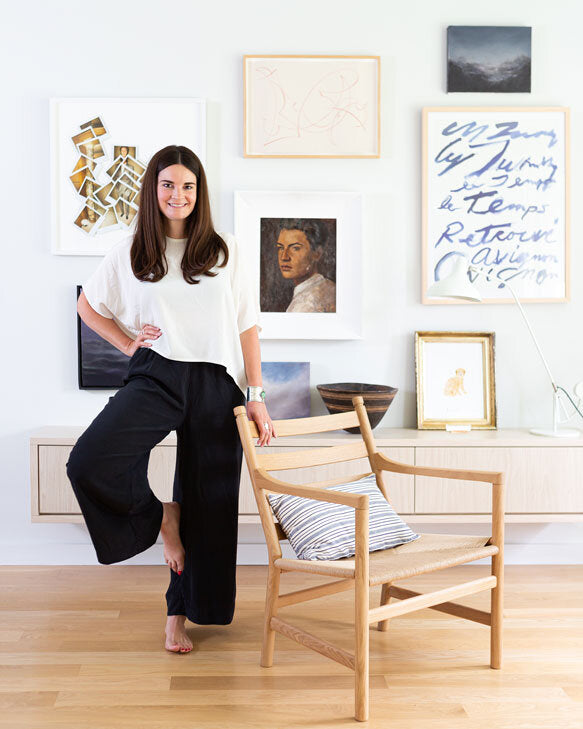 Today we're chatting with Michelle Adams, creative consultant, editor, design guru, home remodel genius. Over the years Michelle has been at the forefront of the home and lifestyle editorial space, holding eminent posts and pushing the boundaries at several celebrated publications. In 2009 she cofounded Lonny, a trailblazing online shelter magazine later acquired by Livingly Media. Michelle teamed up with the Meredith Corporation in 2011 to create TRADhome magazine. And in 2013, she became editor in chief of domino, helping relaunch the brand with an integrated web and commerce presence. 
Currently, Michelle provides creative marketing services to corporations and startups, offers interior design to residential and commercial clients,and serves as a freelance editor for various publications. She has made several appearances on The Nate Berkus Show and has been featured in Vanity Fair; O, The Oprah Magazine; and The New York Times. We're huge fans, and we're thrilled to share this conversation with you!
xxCB
You've designed many of your own houses over the years, including your latest Ann Arbor home that is slated to be featured in Better Homes & Gardens very soon. You have impeccable taste and are a natural curator. Where did your love of design begin? 
MA: Well thank you! Like most people who love design, it's something that's always been in me. I started "decorating" at the age of eight, asking for crazy things like curtains for Christmas, and covering my walls in framed DuckTales posters. I even remember getting in trouble with my aunt for completely redecorating my cousin's room! She knew we were up to something when she heard the furniture being dragged and scooted across the floor. Once I reached high school and started babysitting for some fellow design-minded women, I would pore over their decorating books and magazines once the kids were in bed. Then in college, I studied design, landed a job at domino, and the rest is history. 
Let's talk about your prolific career in design, editorial, consulting, and brand development. Looking back, what are the biggest lessons you've learned? 
MA: So many! From a design standpoint, while it's my job to know what's trending, I've learned that serving up trendy suggestions to my clients is actually a disservice to them, since trends are fleeting and ultimately costly and wasteful. What's cool today is out tomorrow.  So I've spent a lot of time in recent years studying macro versus micro trends, attempting to figure out how to keep my projects relevant by nodding to the macro trends, yet also timeless and environmentally responsible, skipping the micro trends altogether. We're living in an exciting age where people demand authenticity, so I've learned to stay true to what I love and tune out the noise. 
You recently made the move from Ann Arbor to Lake Michigan. Can you tell us a little bit about what inspired your move and about the home you are renovating there? How will this project be different from past ones? 
MA: I think it's safe to say that this has been one hell of a year, and it definitely influenced my decision to move! I was feeling uneasy about being quarantined in my home by myself this past spring, and during that time I found myself craving nature more than ever before. I took my pup, Rufus, to the park most days to get outside, and even volunteered on a farm! But when I visited my parents' cottage on Lake Michigan in late April, I finally felt a sense of peace. So, on a whim I pulled up Zillow to see what the real estate market was like here, and one week later I  found myself writing an offer on a house. It was admittedly insane! But typically I make my best decisions when I go with my gut instinct and figure out the details later. So, here I am in Holland, Michigan, looking out at the lake every day and taking Rufus on beach walks! I'm staying at my parents' place until my home is done being renovated (hopefully sometime this winter) and enjoying the downtime that this year has brought us all. With regards to my design plans, I'm going to make my new home as timeless as humanly possible. I think that's the only responsible way to design these days. In the past I've conjured up a seaside feel in my homes regardless of their location, but this time I'm actually on the water so I feel like I have permission to take the look to the next level. I'm so excited! 
When you jump into a new home project, where do you start? Are there specific elements you look for in the house itself? 
MA: Some houses are so poorly constructed that no matter how well you design them, they'll always feel a bit off. So when choosing a home, I look for architectural details, (moldings, strong focal points, great flooring, etc.) and general layout, (i.e. does the shape of the living room require that you walk through a conversation area to get to the next room? If so, skip it). Choosing the right house can make designing a home much easier. When I decorate, I find that you can make the most immediate impact if you focus on soft lighting (everything on dimmers, and opt for table lamps!), cool rugs to define each space, and soft window treatments. 
We know you've crisscrossed the country and traveled the world as part of your work and for fun. What destinations have been most memorable to you? How have your travels influenced your homes over the years? 
MA: Oh gosh, I've been so incredibly lucky to travel all over the world as part of my job! Strangely I really enjoy exploring cities by myself. It makes my heart pound! So the trips where I've had time to go off by myself and explore are typically the ones that have stuck with me the most. I could wander the streets of Paris for the rest of my life (in fact, post Covid that will probably be my first trip!), and I feel completely at home in Maine, even though I've never lived there. My home is absolutely a reflection of my travels, which is perhaps why it's so eclectic. Everything from street art to textiles, lanterns and even scents that I discover during my travels make their way into my home. I also love using Shazam while I travel to essentially make a soundtrack of the new music I'm hearing in shops and restaurants I visit.  
What items in your home have brought you the most comfort over the past few months?
MA: Well, it's not really an item, but my pup Rufus brings me joy every day! Most of the things I own are in storage right now while my house is being renovated, so I suppose it's a tough time to answer that question. I've been antiquing several times since moving here and have picked up some awesome oil paintings that will look great in my new place! I'm an art-aholic. 
What are your go-to home shops/brands?
MA: I love an eclectic look so I shop all over the place, but a few of my go-to's are RTH Shop, Flotsam + Fork, Ralph Lauren Home, Yvon Lambert Bookshop, and every antique shop I see! 
Which interior designers are you most influenced by? 
MA: Right now I'm really into Alfredo Paredes. He's completely brilliant! I also continually reference architect Michele Bonan's work, and think Sally Breer has a cool, fresh perspective.
You have such a keen eye when it comes to editorial. What print or digital publications do you find compelling these days? We'd love to know what you subscribe to or read regularly.  
MA: These days I'm finding inspiration from Cabana magazine, as well as Openhouse, and of course I still get excited every time a new issue of domino hits the stands! I'm also floored by the in-house publications from Urban Electric, Schumacher and Hesperios—these brands are creating spectacular content! Online I admittedly bounce all over the place, hunting for relevant and timeless content that feels warm and inviting. I love WOMAN by Apiece Apart;  Daylesford Farm on Instagram; and GOOP and its related podcast and Netflix series. In general I love peeking into the lives of stylish people I follow on Instagram.
Be sure to follow Michelle on Instagram @michelle_adams for beautiful content and design inspiration!