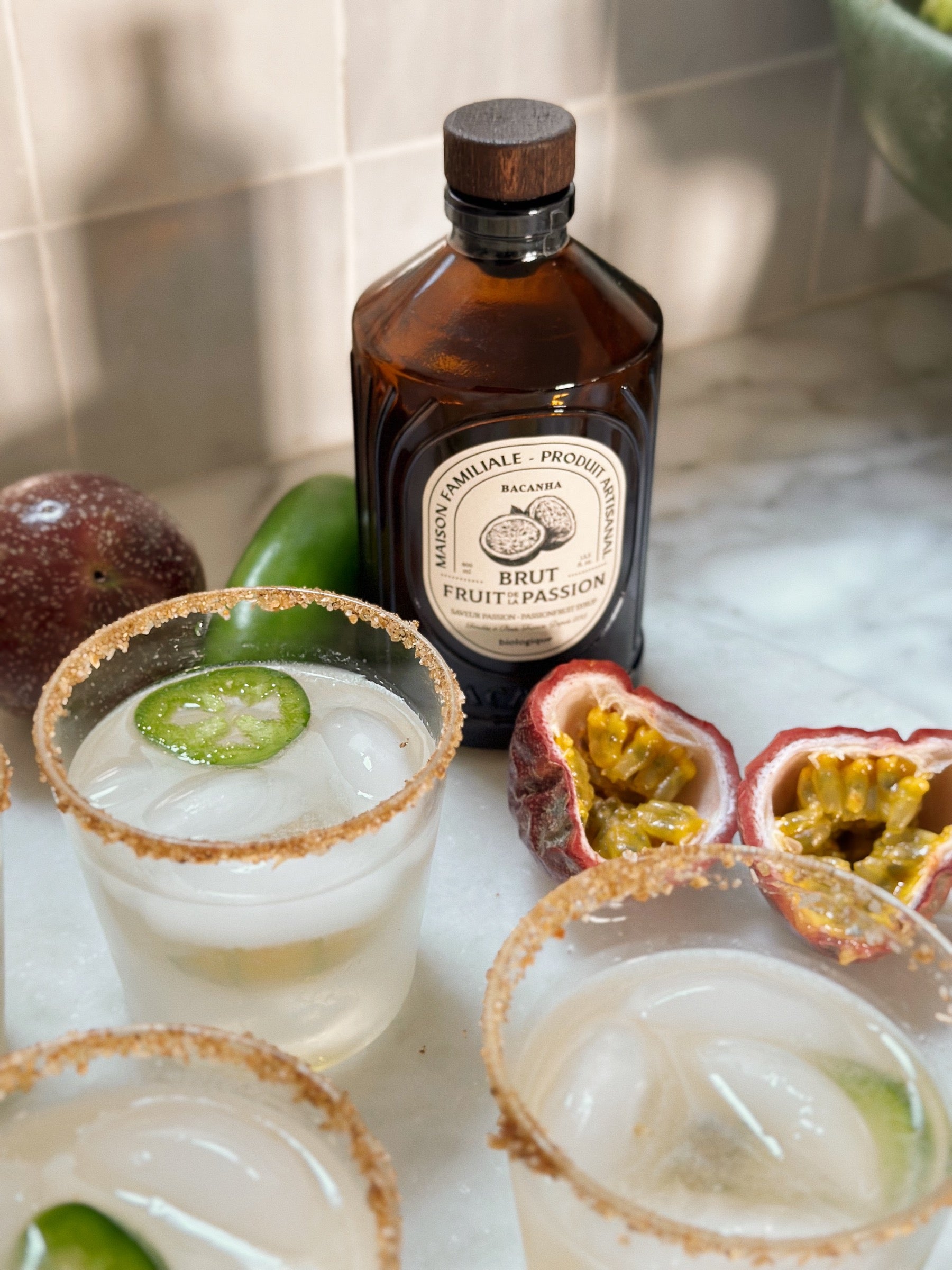 There's no turning back now — we have crossed the threshold into summer. Daylight stretches further into the evening, our pace has slowed in the heat of 100 degree days, and our palettes are continuously treated to sun-kissed fruits and vegetables positively bursting with flavor. To that end, the CB team has been excitedly plotting the introduction of our newly stocked line of hand-crafted, organic syrups.
Hand-crafted in Paris by a small team of French alchemists and bon vivants, these non-alcoholic syrups are inspired by traditional European bistro sweeteners and botanical aromatic bitters and aperitifs. Made with the finest organic ingredients, these artisanal essences are perfect for drizzling over delightful sweet treats (macerated berries, cream and a spoon, please and thank you!) or infusing spritzes, cocktails, teas, and lattes. Hefty, pleasingly apportioned bottles allow for ample applications — approximately 25 to be exact — and make wonderful gifts.
From the full range of 39 flavor offerings, we pared our favorites down to Ginger, Basil, Peach, and Passion Fruit. Our team agreed that two savory/herbal and two fruit forward options allow for the most variety in applications, and these four in particular best personify summer.
Upon arrival, we spent a full afternoon sipping and savoring these delectable syrups in iced tea, lemonade, and sparkling water and were impressed with how they combined to create something so simple and satisfying. The tasting led to Sarah and Katie curating a handful of impossibly easy, quick-to-prep recipes to showcase these exceptional syrups, and we promise as many laughs and good times enjoying them with friends as we had doing this hard-hitting research. 
Without further ado, choose your favorite flavor (or four!) and read on for all the juicy scoop to make an ordinary beverage sing or impress come happy hour. And in the spirit of sharing, we'd love for you to experiment and let us know what concoctions you create!
 xx CB 
GINGER SYRUP
A spicy kick-start to the morning or pitch perfect come happy hour, this ginger syrup is fast becoming one of our favorite bevy additions.
Ginger Café au Lait
6 oz strong coffee · 1.5 tbsp
ginger syrup
· 3 oz frothed milk · nutmegCombine coffee and syrup and stir. Top with frothed milk and a pinch of grated nutmeg.
2 oz bourbon · 1 oz triple sec · 3 tbsp
ginger syrup
· 2 oz fresh orange juice · orange slice for garnish
Combine all ingredients in a glass and stir. Pour over ice and garnish with an orange slice.
The French phrase avoir la pêche ("to have the peach") is 
most commonly used on Fridays to express one's readiness for the weekend. With these recipes y
ou can have this peach … and drink it, too!
Peach Iced Tea
5 cups iced tea · ¼ cup
peach syrup
· mint & peach slices for garnishCombine tea and syrup in a pitcher with ice and stir. Pour over ice and top with mint and a peach slice.
1 lime thinly sliced · 1 lemon thinly sliced · 3 cups sliced fruit ·
¼
cup apple brandy ·
¼
cup
peach syrup
 ·
1 bottle of chilled dry white wine 

Add lime, lemon, syrup, and brandy to a large pitcher and lightly muddle for 30 seconds. Add remaining fruit (we chose green apple, peaches, and strawberries) and wine. Stir to combine. Pour over ice and top with fruit. Store in the fridge for up to two days….the longer it sits the better it gets!
BASIL SYRUP
The sight and smell of basil's bright green leaves simply screams summer abundance. With the recipes below, we dare you to find better bookends for that wood-fired Margherita pizza.
Basil, Blackberry, Lemon Sorbet
1 pint blackberries · 1 splash limoncello (or squeeze of lemon) · 2 tbsp
basil syrup
· lemon sorbet · basil leaves for garnish
Combine blackberries, limoncello (or lemon juice), and syrup in a bowl and let sit covered in the fridge for at least 1 hour. Spoon mixture over a scoop of lemon sorbet and garnish with basil leaves.


Basil Daisy
2 oz vodka · ½ oz Aperol · 1 oz basil syrup · 3 basil leaves · Prosecco · basil for garnish
Combine vodka, Aperol, syrup, and basil leaves in a shaker with ice. Shake vigorously for 30 seconds. Strain over crushed ice, top off with a splash of Prosecco, and garnish with basil.
PASSION FRUIT SYRUP 
Passion fruit may just be our main squeeze. Its tangy, grapefruit-y, tropical flavors add a little tart intrigue to lemonade and a spicy marg on the rocks.
Sparkling Passion Fruit Lemonade
1 cup fresh lemon juice · ½ cup
passion fruit syrup
· 4 cups still water · sparkling water · lemon slice for garnishStir together lemon juice, syrup, and still water. Pour over ice, top with sparkling water, and garnish with a slice of lemon.
Spicy Passion Fruit Margarita
1 oz passion fruit syrup · 2 oz tequila · 1 oz fresh lime juice · 1 jalapeño sliced · Red Clay spicy margarita salt
Rim glass with lime juice and spicy margarita salt, then fill with ice. Combine syrup, tequila, and lime juice in a shaker with ice and shake for one minute. Strain into glass filled with ice and garnish with a jalapeno slice.