Storied Details: The Enchanted Arabian Nights Tent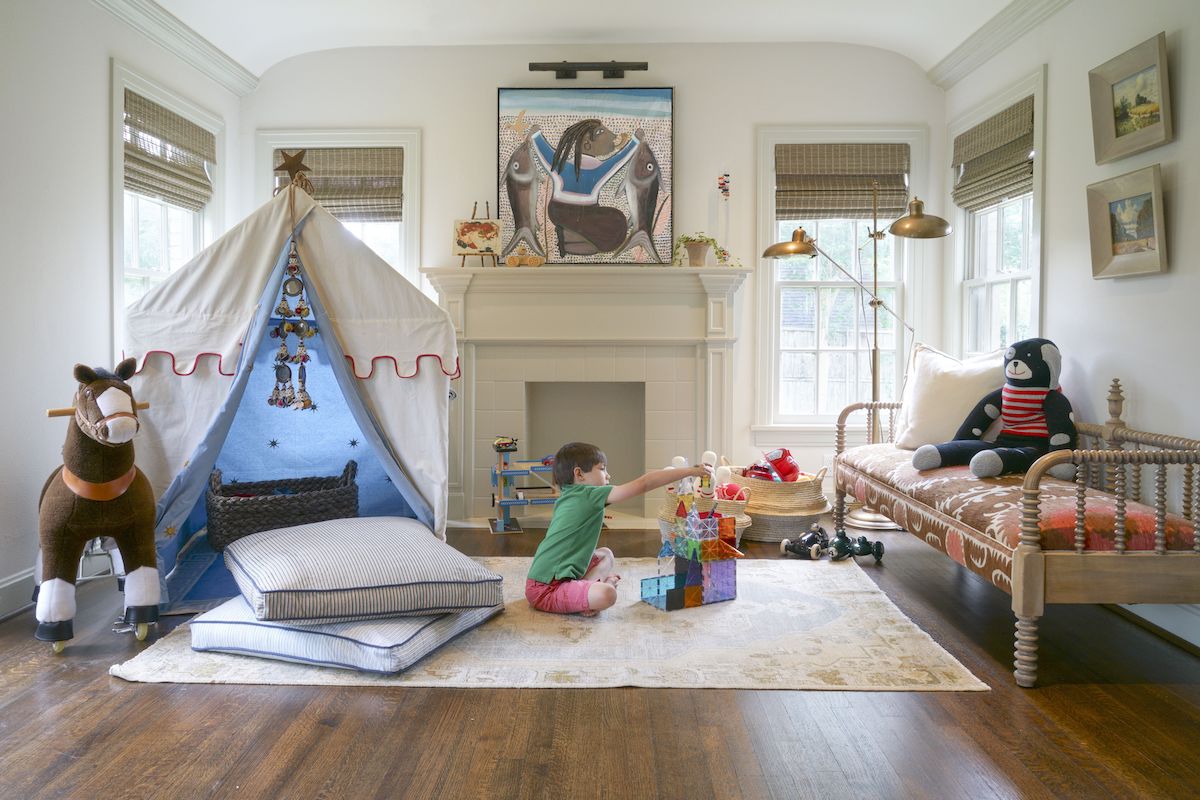 Last week The Wall Street Journal featured our Arabian Nights Tent in their roundup of children's indoor play structures — you may have seen the writeup online or in Saturday's Off Duty section. I custom designed and fabricated the piece 7 years ago. And since the day the tent arrived on our doorstep it has been a beloved portable hub in the house, an enchanted haven into which my two boys escape for hours with toys and books, a space entirely their own.
What's so captivating about the tent, what sets it apart from other teepees and indoor playhouses on the market, is its custom detailing. While it may be tempting to brush off design intricacies as above a child's sensibilities, it is the structure's details that conjure its whimsy and transport visitors to a tiny magical world. To that end, consider this an introductory tour. Below we tie back the canvas flaps and invite you into this inspired lair.
The tent's neutral exterior nestles seamlessly into elevated décor. Its roofline is marked with wooden celestial finials and a pair of black tasseled 'chotis' dangle from the entrance. Originally used to adorn the side mirrors on commercial Indian trucks, the pom poms' auspicious shade is known for warding off evil spirits.
Stepping inside the tent, it may take a moment to adjust your eyes to the saturated aura cast by Jodhpur blue dyed walls, which are windowed on two sides to let natural light flood in. Jodhpur, my favorite city in India, is nicknamed the Blue City for the vibrant azure hue that washes the town and is best viewed looking down from the mighty Mehrangarh Fort. Twinkling gold block printed stars dotted with glass mirrors scatter about the dyed walls and allude to Gujarat textiles and their Sheesha embroidery dating back to the 17th century. Underfoot you will find a custom cotton dhurrie rug inspired by a visit 10 years ago to the remote village of Salawas in India's western state of Rajasthan. I was taken with the artistry of the rugmaker's great-great-grandmother — and the tent's Greek key-bordered flatweave bottom pays homage to her handiwork. Iron poles anchor the sturdy tent structure, which can be effortlessly rolled in an easy-to-store canvas bag.
We've decided to produce another run of the Arabian Nights tent. After all, has there ever been a more urgent moment to set up a magical indoor play space for your kids (and while you're at it, refresh your home in other ways!)?
Preorder today and your tent will arrive just in time to provide a respite from the summer heat!
xx CB