Storied Details: The Dohar Blanket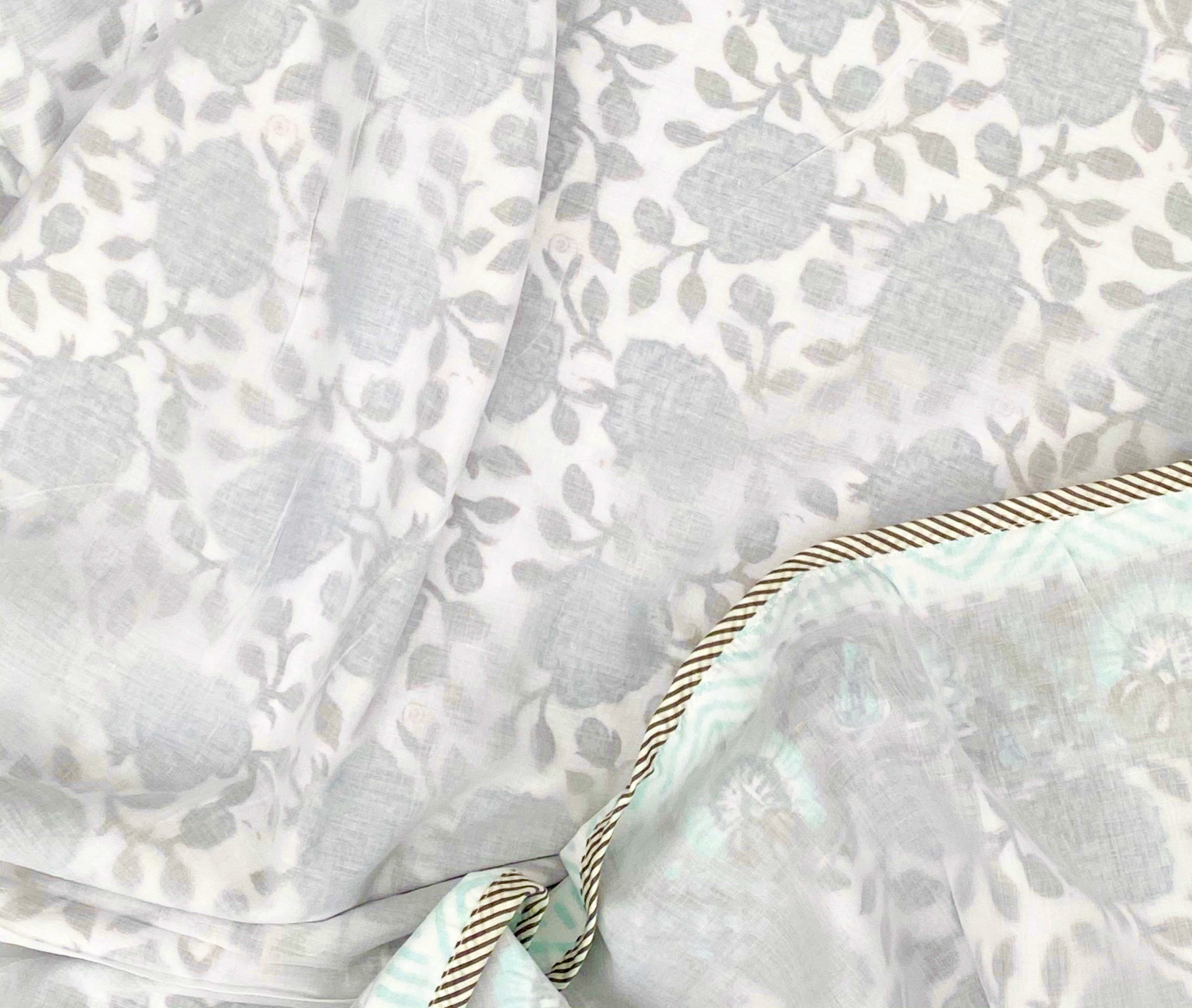 It all started with me on the back of a moped whizzing around the outskirts of Jaipur. This was 2010, my first trip to India, and I hadn't set out to bring home what would later become my signature, best-selling textile, the dohar blanket. But that's what happened, and it's all thanks to an Indian factory owner and my own admittedly risky sense of adventure. 
So back to the moped. The factory owner drove me to his buddy's workshop, an outfit he knew produced more of this soft, sumptuous textile that, despite being buried in a stack of quilts, had caught my eye earlier that morning. I toured the workshop, unfolded dohar after dohar, and begged to bring several home with me. My new friend finally acquiesced, though at the time he only produced dohars for export to France.
Thus began my love affair with the dohar, which quickly led to their introduction to the U.S. market. I was the first American retailer to import these blankets, and now many others have followed suit. As an aside, know that all dohars are not created equal. We meticulously ensure that quality is consistently excellent and never compromised. A pro-tip I learned while working under couturier Ralph Rucci—textiles should be so well-constructed that you can't tell the front from the back.
photograph by Augusta Sagnelli
The Jaipur artisans and I are going on over a decade of designing and producing dohars for my shop and our wholesale clients. We worked together to fit the blankets to American bed sizes, hone patterns to streamline errant seams, and modify the trim to make the blankets' multiple layers lie smooth and endure many wash cycles.
In Hindi, doharana means "repeating" and dohar implies "layered." Traditionally, dohars were summer blankets—they're made of three sheets of mulmul, an airy cotton muslin once exclusive to Indian royalty. I've been captivated by the production process ever since that visit to the workshop so many years ago. Dohars are made according to centuries-old block printing methods. Artisans first carve an intricate pattern into a block of wood. The block is then dipped into natural, azo-free dye and pressed into the fabric 500 to 3,000 times in a slow, rhythmic process. Produced in limited quantities, the blankets bear the mark of the artist. Each piece is one-of-a-kind, and there are subtle differences even among those of the same print. 
photograph by Harlow & May Studios
From a design standpoint, I remain inspired by traditional Indian block prints and heirloom Mughal flowers. I like to play with color palettes and the scale of vintage blocks to create fresh designs. In our newest batch of dohars, set to arrive in March just in time for the 2021 Round Top Spring Show, I loosened my grip on our go-to shades and patterns. There are hints of marigold; there are non-botanical prints—and I really can't wait for them to arrive state-side.
Back in 2010 I didn't predict clients coast-to-coast would fall in love with dohars, but I knew they were unlike anything I'd have ever seen or felt before. I credit the well-deserved buzz to their versatility and durability, not to mention their subtle elegance. Adults love them (trust me on this, men are HUGE fans) and children do too—the dohar makes for a really lovely baby gift. I have dohars all over my house—to rest beneath one is an indulgence. Pile them atop a bed as lightweight coverlets, use them in place of a traditional top sheet, or fold them in a family room for afternoon naps. We can also have dohars fitted as shower curtains or draperies.
photograph by Rahera Photography
Dohar blankets machine wash beautifully and get softer over time! Cold wash separately on a delicate or permanent-press cycle. Tumble dry low heat or line dry for best results. 
The moral of the story: if you ever find yourself wandering the world in search of adventure (or your newfound textile obsession), don't turn down the stranger on a moped when he offers you a ride. You never know what will happen—it may be the start of your next business venture, the birth of a new partnership--heavens, it might even change your life.
Shop Courtney Barton dohars on our website, or stop by one of our shops in Round Top or Houston. We'd love to see you!
photography by Kara Miller Interiors
photograph by Rahera Photography
photograph by Rahera Photography
photograph by Rahera Photography