Storied Details: The Lassi Cup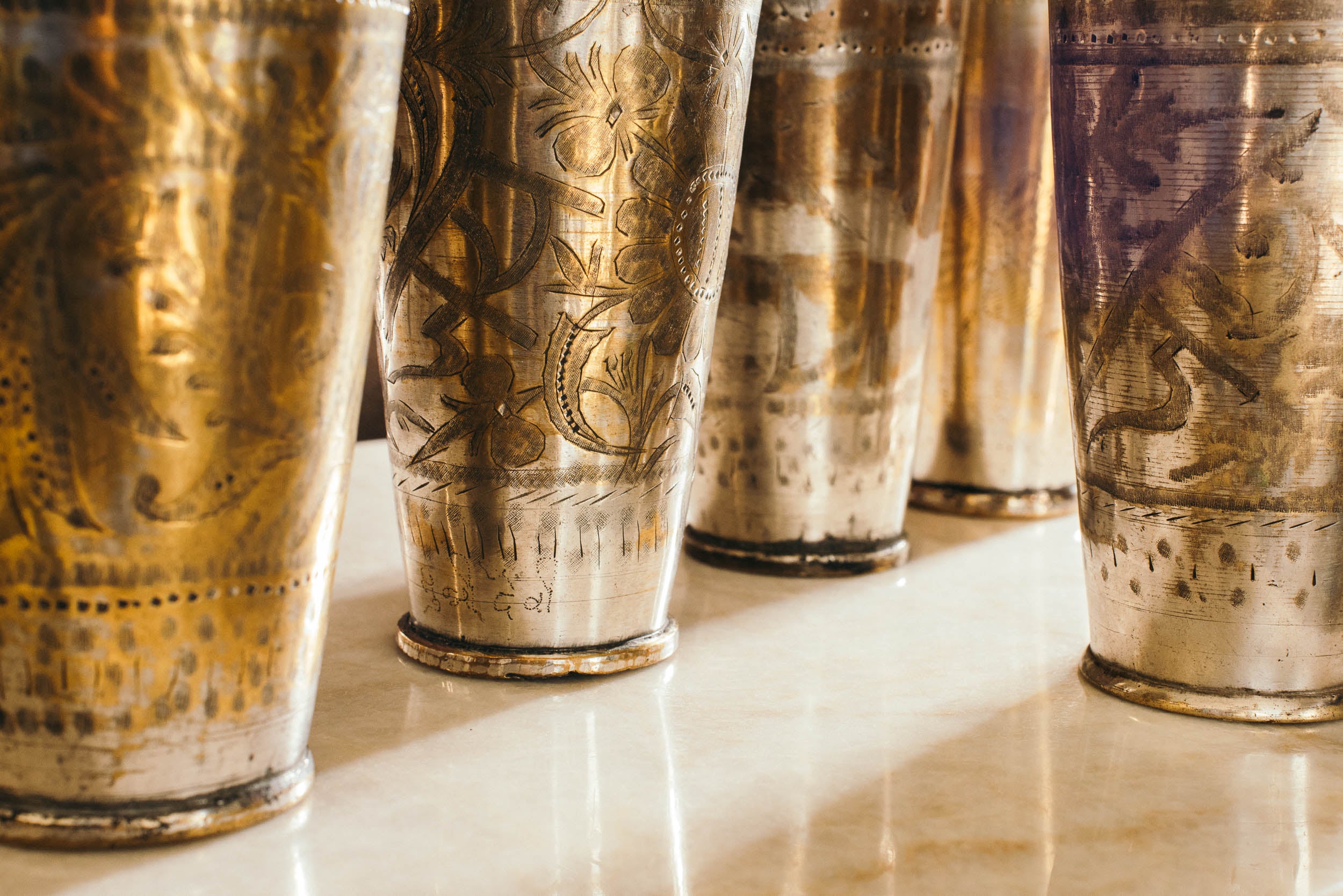 When traveling to India, one of my favorite indulgences—and a daily ritual—is the ubiquitous lassi. As I head to the factory in Jaipur each morning, I detour down MI Road to join the crowds at the most famous Lassiwala in the city, founded over 75 years ago. The deliciously creamy and slightly tart drink, made-to-order with yogurt and ice, can be sweet or salty. My go-to flavor is mango and when lamenting the days of overseas adventures from my own kitchen, I'll whip up a batch using this recipe. I sip, summon fond memories, and scheme future jaunts.
For generations, lassis were served in patinated metal and brass cups (nowadays vendors pour them into traditional earthen kulhars—handless, unpainted clay cups like above). We gather the vintage containers in markets across India. Hand-engraved in the Mughul style, no two are alike and the timeworn patina varies from cup to cup. You can find them in the shop ready to be filled with cut flowers and herbs, makeup brushes, or other objects. Nestle them on bookshelves, stack them in a glass-faced cabinet, or place atop a vanity.
We also repurpose the cups into vessels for our custom candles. Individually hand-poured by a local Texas chandler, our Bamboo and Marseilles Fig scents are shop favorites—though I'm partial to Rose Oud, Orange Blossom, and 1907. These make incredible gifts, have a very long burn time (nearly 100 hours!), and continue bringing beauty and function to your home long after the candle has burned down.
Like many of our pieces, we like to think of our candles as an ode to bridging origins and eras, while also sustaining heritage crafts. Browse our lassi collection on the website, or stop by the shop—we'd love to help you find the perfect cup or candle, one that you'll treasure for years to come.